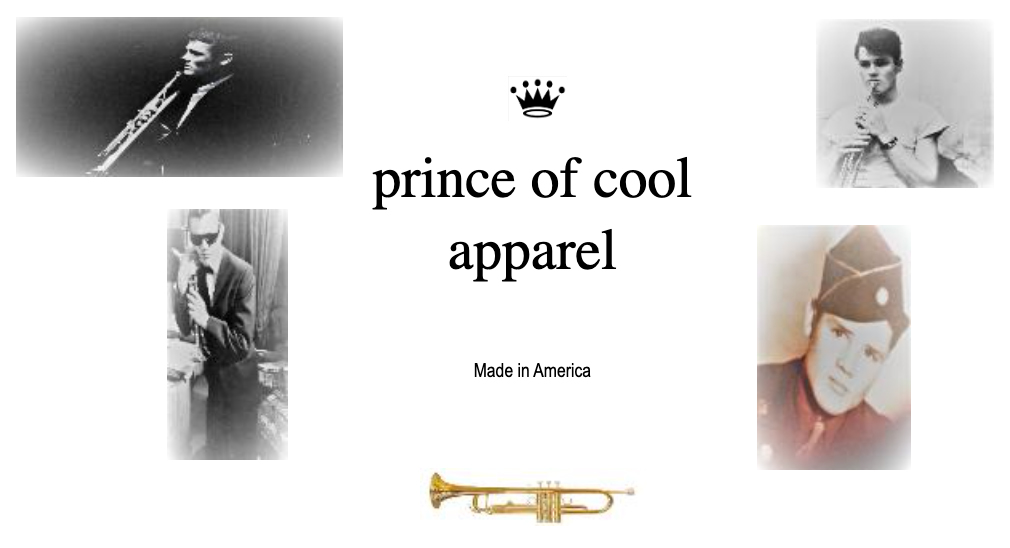 In partnership with the Chet Baker Estate, LLC Prince of Cool Apparel, LLC offers apparel,
accessories and specialty items featuring international jazz icon Chet Baker.
Chet Baker was born December 23, 1929 in Yale, Oklahoma. At age 16 he enlisted in the United
States Army and was stationed in Berlin, Germany where he performed in the 298th division band.
He was then stationed at the Presidio in San Francisco, California where, on his off time, he would
play at local clubs and in 1948 caught the ear of young Dave Brubeck. After his military discharge he
moved to Los Angeles where, at age 23, he was noticed and hired by Charlie "Bird" Parker who
hailed young Chet as a budding jazz heavyweight.
Chet pioneered the "west coast cool" jazz genre beginning in the early 1950's and perfected it
throughout his 4 decade international career…recording on over 200 albums.
Because of his beautiful art Chet Baker was given the moniker…and will forever be known as… the
prince of cool.
Many items offered will be limited series, so remember to check our offerings often.
Inaugural offering:
" My Funny Valentine "
(Chet and his wife Carol
Paris, France)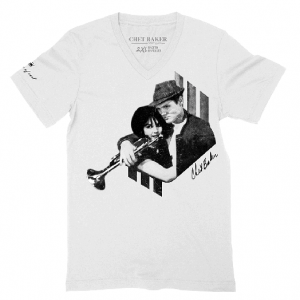 This is a premium quality v-neck cut, tri-blend shirt featuring the prince of
cool logo on the right sleeve, custom estate printed tag and Chet's
signature incorporated in the image on the front of the piece.
$50
(plus shipping/$5 US domestic/$12 international)
Unisex sizing XS(14″), S(15″), M(16″), L(17″), XL(18″), 2XL(20″)
shoulder seam to shoulder seam measurements in inches